eGuider Exclusive — March 25th, 2010

Announcing the eGuiders Live HD Studio
by Brian Rothe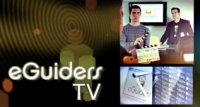 eGuiders is proud to announce the official launch of the eGuiders Studio. The eGuiders Studio is the live original programming component of the trusted video curation site, eGuiders.com, which was launched in February 2009 by CEO, Marc Ostrick. eGuiders uses a roster of experts and thought-leaders, each of whom recommend videos from across the web that they find entertaining, engaging, and timely.
The Studio will roll out its original programming of three weekly live shows that will air at http://eGuiders.com/studio/live:
1) eGuidersTV - A weekly series that features trending videos and commentary from their roster of prominent eGuiders. Tech evangelist, Robert Scoble, will be the guest for the premiere episode on 4/2/10 at 4pm PST.
2) The B Side – A weekly series hosted by Michael Whitmore, head of collectable 45's for Amoeba Records. Whitmore shares rare and lost recordings of all genres - from rockabilly to northern soul. Premiere episode set for 4/2/10 at 10pm PST.
3) The Untitled Series – An eclectic series that will combine musical performances, short videos and diverse content from around the globe, wrapped with thought provoking conversations. The show will air at unspecified times beginning at any moment.
"By creating consistent, live programming that focuses on the convergence of media, technology and the arts, eGuiders is committed to deepening the connection with our community of video enthusiasts. Our quality content will be a distinct voice in the online video space," says Ostrick.
eGuiders has partnered with several companies for the launch of the studio. BitGravity is the primary live streaming partner for eGuiders, providing carrier-grade live streaming in HD of the shows on the eGuiders Studio site.
"There's no better way to showcase the original, live programming that the eGuiders team is creating than with BG Live—BitGravity's live streaming product," says Skip Rudolf, BitGravity's Senior Director of Marketing.
Livestream will feature eGuiders' live programming on its site so that end-users can engage with the content. Liestream will also provide a Livepack to stream live from alternative locations and events. The innovative Livepack technology allows a video producer/shooter to have the capabilities of a TV satellite truck in a backpack.
Telestream is providing Wirecast live webcasting software, which brings professional, TV-quality video production to live streaming at a fraction of the cost of other solutions.
"We're delighted that the video experts at eGuiders chose Wirecast for their live studio production needs," said Linda Stromberg, Director of Product Marketing at Telestream. "Wirecast is the industry's first, live, full-production TV studio software solution in a box for any desktop."
With the launch of the studio, eGuiders is positioning itself at the forefront of a "micro-studio" revolution, creating a decentralized network of low cost, high quality studios for its own content as well as for brands that want to take control of their message.
---

eGuider: Brian Rothe
Director of Content, eGuiders
Recent west coast transplant and production expert.
blog comments powered by Disqus