eGuider Exclusive — October 23rd, 2010

5 Japanese Commercials Celebs Don't Want You To See
by Michael Tapp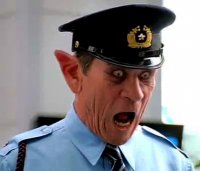 During pre-Internet times (long before your mom had a Twitter account) celebrities thought they could star in ludicrous Japanese TV commercials, rake in ridiculous amounts of cash, and leave their integrity intact. A few years passed by, Tim Berners-Lee invented the World Wide Web, and... ENTER YOUTUBE and a slew of other video sharing sites. Now these commercials can be seen anywhere in the world at any time. So let's laugh at these crazy ads while the stars sit at home and count their earnings. 5 Japanese commercials celebs don't want you to see are cataloged right here!
---
#1: NICOLAS CAGE
Shilling: A Japanese gaming device used for amusement & gambling
The Take Away: Nick Cage has Pachinko problems.
---
#2: Arnold Schwarzenegger
Shilling: Energy Drinks
The Take Away: This Drink = Instant Crazy
---
#3: Peter Falk
Shilling: Toyota Corollas
The Take Away: Peter Falk is a creeper.
---
#4: Bruce Willis
Shilling: Gasoline
The Take Away: Why buy a hybrid when you can hire Bruce Willis?
---
#5: Tommy Lee Jones
Shilling: Canned Coffee
The Take Away: Don't piss off Tommy Lee Jones.
---

eGuider: Michael Tapp
Content Creator | Shooter | Camera Tech
Michael Tapp has been working in the television and film industry for five years, relentlessly pursuing his craft since the very beginning. For over a year Michael maintained top of the line high-definition and film cameras while he worked at Armanda Costanza Inc. as a motion picture camera technician. He has also edited shows for the D.I.Y. Network and has shot footage for the Travel Channel. Michael and co-creator Michael Margle developed Scott Summit, a spoof on self-help gurus like Dr. Phil and Tony Robbins. Michael is excited to be a part of New Media and thrilled to have a role in the redevelopment of television as we know it. He is currently based out of Tennessee, enjoys playing guitar, and would love an office in the Sunsphere.

blog comments powered by Disqus