eGuider Exclusive — April 11th, 2010

7 Fantastic Fan-Made Music Videos
by Michael Tapp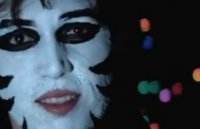 There isn't much music on Music Television anymore. The web and the transformation of the music industry have changed the way music videos are created. Bands that used to receive heavy rotation on MTV (ex. Radiohead, Nine Inch Nails) are now holding contests, asking the fans to create their next official videos. Old school music videos used to have budgets that funded explosions, dancing models, and fancy camera work, while fan-made music videos make the most of what they have to work with. Let's take a look at the cream of the crop.
---
Grizzly Bear - "Two Weeks"
Official
Fan-Made
Gabe Askew created the fan-made video for Grizzly Bear's "Two Weeks". He makes computer generated architectural fly throughs by trade and he created this video as a personal project during his off time. It took somewhere around 160 hours to complete this video. The C.G. renderings have a handmade aesthetic because he painted and scanned all of the textures in the video. I hope Grizzly Bear gave him some free tickets to one of their shows.
---
Jonathan Coulton - "Mandelbrot Set"
Fan-Made
This fan-made video was created by Pisut Wisessing when he was studying at Cornell on a scholarship from the government of Thailand. Jonathan Coulton provides the soundtrack that talks about the Mandelbrot Set mathematical formula. Jonathan Coulton wrote a song a week for a year, and gives away his music through a Creative Commons copyright license.
---
Cut Copy - "Hearts on Fire"
Official
Fan-Made
This contest-winning video proves that you only need a camera, editing software, and some inspiration to make a great music video.
---
Death Cab for Cutie - "Little Bribes"
Fan-Made
This video was created by San Diego State University's film graduate Ross Ching. He created this video as a resume builder. The band found out about the video and made it the official video for "Little Bribes". Ross found eGuider Susan Cooper on Twitter and Susan gave this video the exposure it deserves.
---
Radiohead - "Little Bribes"
Fan-Made
Clement Picon is a Radiohead fan and his video became the official video for Radiohead's "Reckoner". The The French animation student spent two months on this video and ended up winning the Aniboom/In Rainbows music video contest.
---
MGMT - "Kids"
Official
Fan-Made
Jon Salmon and two other USC students threw this video together in order to meet a deadline for a class project. The fan-made music video has more views on YouTube than the official MGMT video. The band contacted the creators of the fan-made "Kids" video and the stars of the fan-made video made a cameo in the band's next official music video.
---
SOKO - "I'll Kill Her"
Official
Fan-Made
Joerg Barton, a German motion designer, created this mind-melting video as his university thesis project.
---
Fan made music videos are testaments that show how much of a connection music can make with people. Who said that the music video is dead?
---

eGuider: Michael Tapp
Content Creator | Shooter | Camera Tech
Michael Tapp has been working in the television and film industry for five years, relentlessly pursuing his craft since the very beginning. For over a year Michael maintained top of the line high-definition and film cameras while he worked at Armanda Costanza Inc. as a motion picture camera technician. He has also edited shows for the D.I.Y. Network and has shot footage for the Travel Channel. Michael and co-creator Michael Margle developed Scott Summit, a spoof on self-help gurus like Dr. Phil and Tony Robbins. Michael is excited to be a part of New Media and thrilled to have a role in the redevelopment of television as we know it. He is currently based out of Tennessee, enjoys playing guitar, and would love an office in the Sunsphere.

blog comments powered by Disqus