eGuider Exclusive — April 26th, 2010

The Web-Junkie Generation
Attack of the Multi-Hyphenates
by John Rota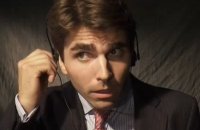 Online videos have taken over the world. Websites like YouTube, places like your local Supermarket, and anywhere else with a flat screen on the wall can showcase online video content. The word viral has become commonplace, and today's celebrities are not just famous actors or rock stars; they are multi-hyphenate average Joes who have access to cameras and computers. "What's a "multi-hyphenate," you ask? It's an empowered, multi-talented, Internet savvy artist who creates, produces, and distributes original online video content.
With media more prevalent in our society than ever before, what does that mean for content producers or the entertainers themselves?
The landscape may seem more diluted, but there is also a plethora of outlets online that create more opportunity to be seen and heard. The power lies within the creators themselves, their futures very much in their own hands. If you are an actor, musician, producer, or artist, and you do not have a custom YouTube channel, you could be missing out on massive exposure.
I recently spoke with three entertainers who understand the power of marketing themselves online by broadcasting original content. All from different backgrounds, with varying styles and takes on the medium, DJ Lubel, Alyssa Price, and Miles Fisher are prime examples of proactive entertainers who know how to get noticed in today's media-infused landscape. More than that, they are a testament to how our media-saturated world has infiltrated us from an early age by exemplifying what it means to be a "multi-hyphenate." It is not simply about being discovered anymore; it's about doing what you love and making yourself discoverable.
DJ Lubel is a musician-songwriter-actor best known for his Murray Hill and Wrong Hole music videos. Together, they have received well over a million views, but that's only the tip of the iceberg for DJ.
As DJ puts it, "The point is, if you want to be in this industry, you can't really be a barstool actor and wait around anymore; you can't have your headshot out there and expect people to call you. Everything is there for us, we can make great sounding songs for cheap, we can make really cool looking videos for cheap. It is all there, waiting to be used."
Miles Fisher is also an actor-singer-songwriter who has built some momentum with the online video medium. Currently signed by ICM, Miles has appeared on AMC's Mad Men and the CW's Gossip Girl.
Miles put it to me this way: "Kids have been doing videos, editing, and composing music by the time they are in middle school. They're their own multi-hyphenate celebrities. They're musicians, actors, and micro-bloggers. Kids come out here and say, 'I am talented; I just want to do this. I believe in all the magic, just like the many generations who came before me, and I'm going to use today's current tools to be self-enabled, to tell my story, to showcase my talent, to inspire the imagination.' And that's what you are seeing right now in a self-enabled way; and it's unbelievably exciting."
Alyssa Price is an actress-comedian-writer-editor who is best known for her vlog-style show entitled Life of Babs that airs on YouTube. Inspired by acting and photography, Alyssa created the show herself.
Alyssa explains, "The format is more like a Vlog, as opposed to the original idea of scripting out episodes with a cast. I started producing and acting in my own content about a year ago, after I found out that three cute girls, known as The Broad Band, were making videos on the web. They actually sold an idea to CW. They are the ones who did the video, "Internet Killed the Video Star."
She continues, "I knew I could do this too; and after I figured out I couldn't just materialize two other girls that happen to have talents that complimented mine, I realized that I could create a format that is just me, and my costar can be this doll, a knockoff Barbie… and that's Babs."
Falling in line with the multi-hyphenate generation, Alyssa is using the tools she has at her disposal to hone her craft out of a need to create and keep her content fresh.
"First of all, I am obsessed with media, and what I do best is acting. But over the last year, having to write my own content, shoot it, edit it, and upload it, I've picked up a lot more skills than I had before I started. When you spend that much time at something, you inevitably get better at it."
DJ's multi-hyphenate career began in college. He explains, "That's why I felt like I was at school; to have access to the cameras, the video editing equipment. That's really when I realized what I wanted to do. I want to be filming my friends and myself, trying to make people laugh. I was lucky because I learned it early on."
Miles' media bug bit him at an early age as well. "I took video editing classes in high school, and my big holiday present once a year was a dinky little handy cam, and what a world it opened up."
That world is continuously getting larger, and although these tools are becoming more accessible, it takes real creativity and inspiration to produce a hit on YouTube. For every viral video there are hundreds, perhaps thousands, viewed by almost no one.
So what turns a video into a hit or a viral phenomenon, and is there a specific formula that should be used? Here are some tips from the great Felecia Day (and others)…
Miles tells me, "I represent a generation that, and certainly this can be said truthfully for the generation that follows me, not only do we demand information, we feel entitled to it… That's why I think a lot of what is successful online are references - very, very clever references to pop culture, that incorporate a whole bunch of different things at once, and make sense of it, while shining a light from an original perspective. That's what I wanted to do with the "This Must Be the Place" video, and what I want to do with other videos: Take a cover of one of my favorite songs, a cover of one of my favorite films, that are otherwise unrelated, but show parallels through audio and visual, through an original performance that you can do on your own."
DJ concurs and tells me that one of the main keys to pulling off the "funny" in an online video should not be underestimated. "Production value is incredibly important. It just makes things funnier, especially in music videos. It also obviously gives a video so much more cache when you have a known actor or celebrity making a cameo, or starring in it."
DJ's first viral "hit" was a song he wrote out of nostalgia, living in LA and missing New York. A number of us New Yorkers can certainly relate to that theme.
He explains, "My brother works in New York and ended up forwarding the Murray Hill song to his friends and co-workers. It literally got the point that every Jewish kid in New York City had heard it. A week later, people were e-mailing me telling me how they loved the song. I was originally pissed at my brother because I was thinking people wouldn't watch the video now that the song was already out… but the funny thing is, if something is good, it sneaks out and people listen to it. You can promote the hell out of something, but it really comes down to hitting a chord with someone."
DJ's story is proof that word-of-mouth has the potential to help you gain an audience more effectively than a clever marketing campaign.
Alyssa adds, "What's great about the Internet is that once your content is out there, it floats out into the world and picks up viewers; people might discover it a year from now and discover it for the first time like it's something new."

This is true of any quality made video that has intrinsic value in letting people know that not only can you act, but you can also produce great-looking, great-sounding content, independent of a studio, and in some cases, without large sums of money.
The common denominator and driving force for these three up-and-comers is the fact that they love their craft, and they create their own content to maintain their sanity in a business overflowing with the not-so-sane. So, what does the future hold for each of them?
Miles says, "I just want act; it's all I've ever wanted to do. And there are so many gatekeepers. You need to be enabled to act in a traditional sense. The entire process, being cast, going through all these auditions, to finally get the part, and then you have no control over what sort of cut they have. Well, I think it obviously is not the same if you are producing your own mini-micro video online; then you do have control over all of that."
DJ has also caught the acting bug. He tells me, "If I can be an actor and leverage into a Flight of the Conchords type show, that would be amazing. I know I'll always keep writing songs and different types of shows, and hopefully I can get traction with something that I can act in myself."
Alyssa chimes in with her brand of charm and humor, "What I would like to happen as a result of doing all these videos, is for someone to see me and say, 'what a fabulously talented actress; I am going to hire her.' And because it is so competitive and all about star power, you have to build that up somehow over years, or overnight. I prefer the overnight… God, are you listening?"
If He's not listening yet, He's watching, and I am sure His channel on YouTube is getting a myriad of traffic. He may be the only one who knows what the future holds for online content, but time will let the rest of us in on that secret.
Miles says, "There is only one finite resource in the world; that's time. Nobody's going to change more than twenty-four hours in a day. And if you can get someone's eyeballs for three and a half minutes and find a way to transition that into added value, you can monetize and profit [from it]. Is it that important from a creative point of view? Not as much. Is it important from the sustainability point of view? Absolutely. That's what excites me about it, and that's why I think it's worth doing."
In this day and age, media dominates culture. Welcome to the world where the potential to have yourself and your ideas seen by millions is not only possible, but expected. As long as talented entertainers like DJ, Alyssa, and Miles are driven to stay sane through creativity, we will continue to watch. They say that everyone has 15 minutes of fame; even though nothing is ever guaranteed, what you do with your 15 minutes today could open the door to 15 hours tomorrow.
---

eGuider: John Rota
Film, TV & New Media Producer
John is a producer who specializes in smart, thought-provoking films, television, and web series.  He has worked on many Emmy Award winning shows, including the documentary Legendary Nights, chronicling the 12 best fights in HBO's 30 years of boxing.   While in development at HBO Films, he worked on Bury My Heart at Wounded Knee, based on the best-selling novel by Dee Brown.  His company, Divine Madman Productions, is currently developing a web series entitled 13Fights, based on John's experience working and living in the boxing world.
blog comments powered by Disqus